All about clothing labels
Hallmarks offer protection to people, the environment and animals. But how exactly does such a label work? And how can you be sure you can trust what the label promises? In this blog, we focus (of course) on labels in the clothing industry and especially on the labels you can find in the Sophie Stone webshop. Want to know more? Then read on!
Why is it important to pay attention to labels?
Labels set strict requirements for working conditions, environmental requirements or animal welfare. So they help you choose more sustainable, fairer products. After all, it is difficult for consumers to verify how sustainable or fair a product is produced.
Then, the more people buy a product with a label, the better conditions for the environment, animals and people ultimately become. Sounds logical right?
By making yourself aware of labels, you also become more critical of products without labels. Why don't they have a hallmark? And is there perhaps a more sustainable or fairer alternative? Labels are indispensable in your sustainable mission.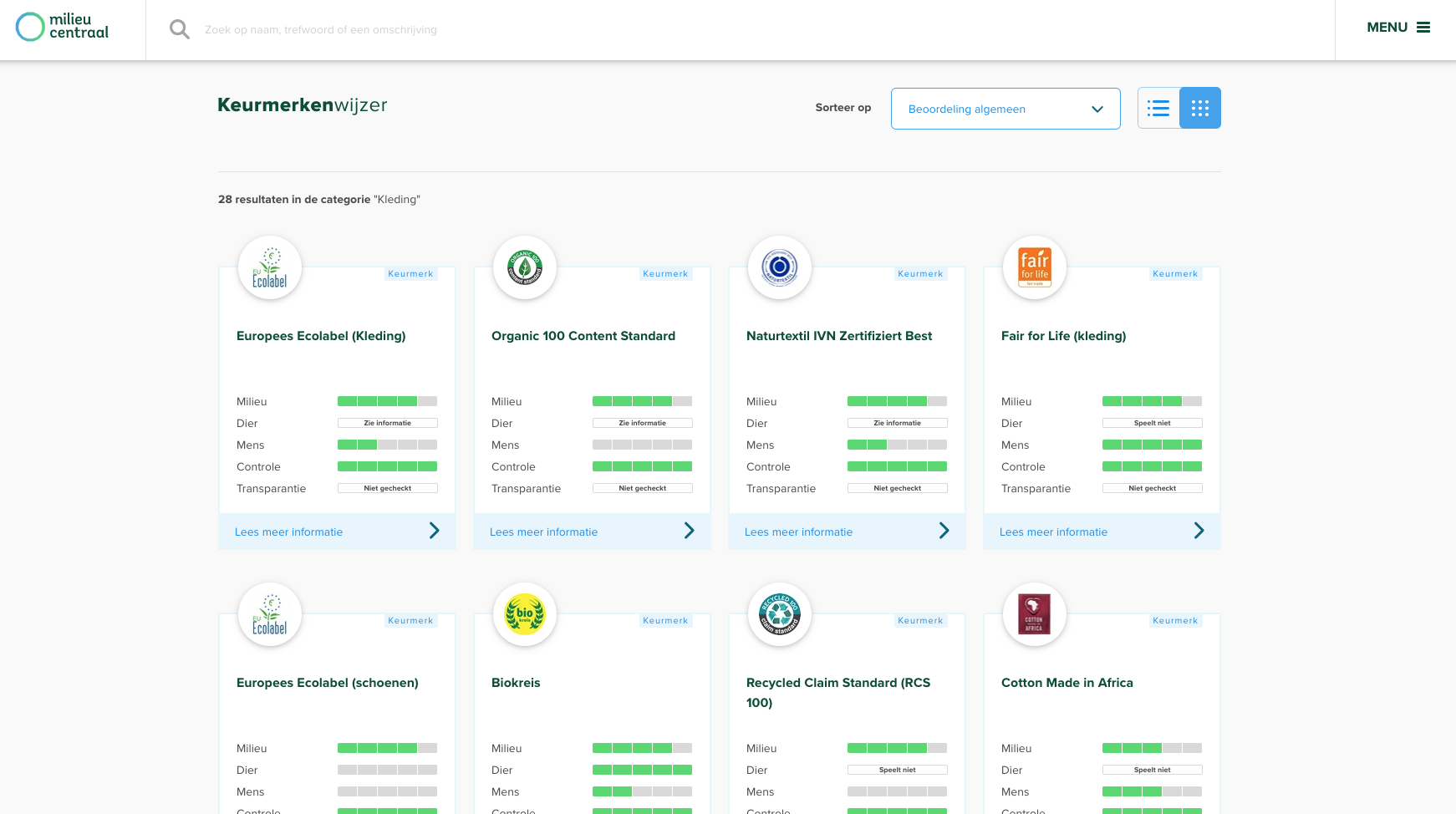 How do I know if a clothing label is trustworthy?
But how can you be sure that what a label promises is actually true? You can find out about most labels by what means they verify compliance with the requirements they set. When they do not, you can question what the label promises.
With the app from Milieu Centraal you can check the various labels you come across, including those of other product categories such as cosmetics or flowers. The app contains Milieu Centraal's assessment of sustainability and reliability for some 300 different labels.
Hallmarks at Sophie Stone
At Sophie Stone you will also find different hallmarks. Below you will find an overview of the labels used by the different brands on the Sophie Stone webshop and what exactly they mean.
Fair Wear Foundation (FWF)
Fair Wear Foundation focuses on improved working conditions for workers in factories. Clothing brands can only carry the FWF label if at least 90% of their suppliers are controlled by the FWF, and this is monitored through an annual audit. With eight international labor standards that must be implemented step by step, FWF ensures that child labor, forced labor and discrimination do not or no longer occur in these factories and that workers receive a living wage. Brands that carry this label and can be found at Sophie Stone include Kings of Indigo and

Armedangels.


Global Organic Textile Standard (GOTS)
GOTS stands for Global Organic Textile Standard where the focus is on organic farming and environmentally and socially responsible textile processing. Specifically, clothes with the GOTS label use less water and energy, among other things, and no harmful chemicals are used during the dyeing of the fabric. In addition, better working conditions are thus also guaranteed, such as with a ban on child labor and a set minimum wage. Clothing with this label consists of at least 70% ("Made with organic") or at least 95% ("Organic") of organically produced materials. Lanius, Organic Basics, Dedicated, J Label, Thinking Mu, People Tree and Armedangels products are examples of products made from GOTS certified organic cotton.


Max Havelaar Fairtrade
Probably one of the best-known labels in the Netherlands is the Fairtrade label of the Max Havelaar Foundation. Fairtrade Netherlands ensures that small-scale farmers in Asia, Africa and South America get a fair price for the products they sell. This allows the farmers and their families to work on their own development and poverty is not perpetuated. In addition, Fairtrade promotes the protection of the environment and biodiversity through various standards and programs.


PETA - Approved
PETA stands for People for the Ethical Treatment of Animals and this organization focuses on establishing and protecting animal rights. Products or brands that carry this seal of approval are vegan, which means no leather, fur, wool, exotic skins or other animal materials are involved. In addition to the clothing industry, PETA focuses on three other areas, namely the livestock industry, laboratory animal laboratories and the entertainment industry. The brands Dedicated, Organic Basics, Underprotection and Embassy of Bricks and Logs in the Sophie Stone webshop have the PETA seal of approval and are 100% vegan. At ARMEDANGELS and Ecoalf some of the collection is PETA-Approved Vegan, this is indicated per product in our webshop. 
Made-By
The consumer label MADE-BY is committed to improving environmental and social conditions in the fashion industry. But in doing so, it is not the case that a garment with the blue button that identifies this label is necessarily sustainable. It merely indicates that the brand is well on its way to becoming more sustainable with the help of MADE-BY In fact, brands affiliated with MADE-BY strive to make production more sustainable. Using a kind of "scorecard," they are assessed on this annually for various components.


Hallmark Business Social Compliance Initiative (BSCI)
BSCI focuses on improving working conditions in factories. Examples include no forced or child labor, safe working conditions and the right to form a trade union. Through an improvement plan, factories work step by step toward these and other improved working conditions. Independent audits and a mandatory monotoring system to measure the requirements set ensure that the brands carrying this label are adequately checked. The Bamboo Basics brand from the Sophie Stone webshop has this hallmark.
By the way, if a product does not have a label, this does not necessarily mean that it is not sustainable. A brand may have a good reason not to apply for a label, for example because it finds the application too expensive. Applying for a label costs money in most cases, and a brand might much rather invest this money in other (sustainable) investments. Or maybe the brand actually has much higher demands and thus finds the requirements of the label too low. Often these brands have their own factories. There is no need for a hallmark: they check themselves how fair these factories are. Usually they are as transparent as possible about this on their own website and social media.